GIVE THE GIFT OF DILLON'S THIS HOLIDAY SEASON! SHOP ONLINE FOR DELIVERY
Login
Log in if you have an account
Dont have an account? Register
Peach Schnapps Upside Down Cake
30 Jul 2021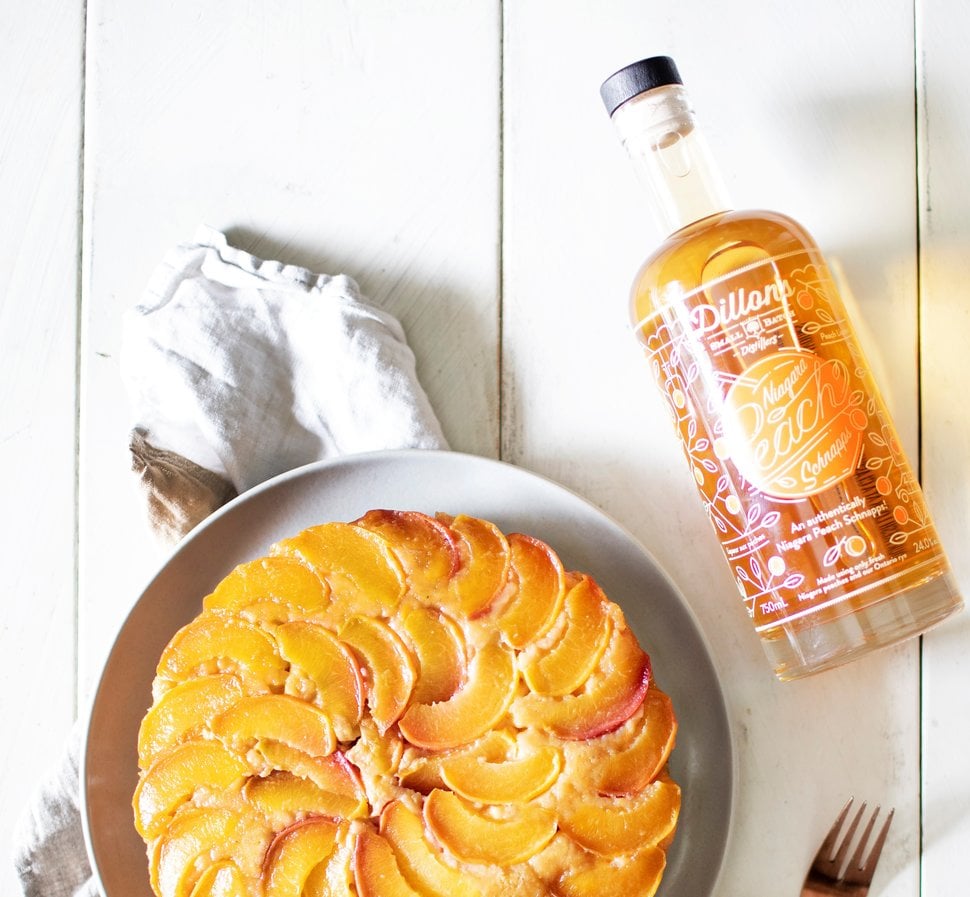 We are so excited to share this recipe with you created by our friend and local Niagara-ite Marcella DiLonardo; founder of Hey Modest Marce.
She is one heck of a baker and lover of all things fresh and local, and an author to boot. Her book Bake The Seasons is available for purchase where all the books are sold.
Ingredients
For the caramel sauce:
1/3 cup unsalted butter
1/2 cup light brown sugar, packed
1/4 teaspoon salt
1 teaspoon pure vanilla extract
2 tablespoons Dillon's Peach Schnapps
2-3 drops Dillon's Peach Bitters (optional)
4 peaches, thinly sliced
For the cake: 
1/2 cup unsalted butter, room temperature
1 cup light brown sugar, packed
2 large eggs, room temperature
1 teaspoon pure vanilla extract
1/4 cup Dillon's Peach Schnapps
3/4 cup full-fat vanilla greek yogurt
1 1/2 cups all purpose flour
1/2 cup fine grind cornmeal
2 teaspoons baking powder
1/2 teaspoon salt
Directions
For the caramel: 
In a sauce pan over medium heat add the butter, brown sugar, salt & vanilla. Bring to a boil constantly stirring. Remove from heat once sugar dissolves, about 2 minutes. Whisk in the peach schnapps & peach bitters.
Line an 9-inch round baking dish with the sliced peaches.
Evenly distribute the caramel sauce over peaches, ensuring it reaches every inch of the pan. Set aside.
For the cake:
Preheat oven to 350 degrees.
In a large mixing bowl cream the butter & sugar until fluffy. Add the eggs one at a time followed by the vanilla, peach schnapps & yogurt.
Sift in the flour, cornmeal, baking powder & salt. Beat until the batter comes together, about 60 seconds.
Carefully pour batter over the peaches & smooth out the top.
Bake for 25-30 minutes, or until the top bounces back to touch.
Let cool to room temperature before removing from pan. Serve within 24 hours.
Now you can have your peach schnapps & eat it too! This recipe takes advantage of Ontario's peach season. It features fresh local peaches & Dillon's authentically Niagara Peach Schnapps. Serve with a generous scoop of vanilla bean ice cream on a warm summer night.